For every submarine cable project, HMN Tech sets up project management team of professional personnel to manage internal and subcontracted resources. Single point communication is developed between project team and our customer. We ensure delivery time and quality by using professional techniques and organization.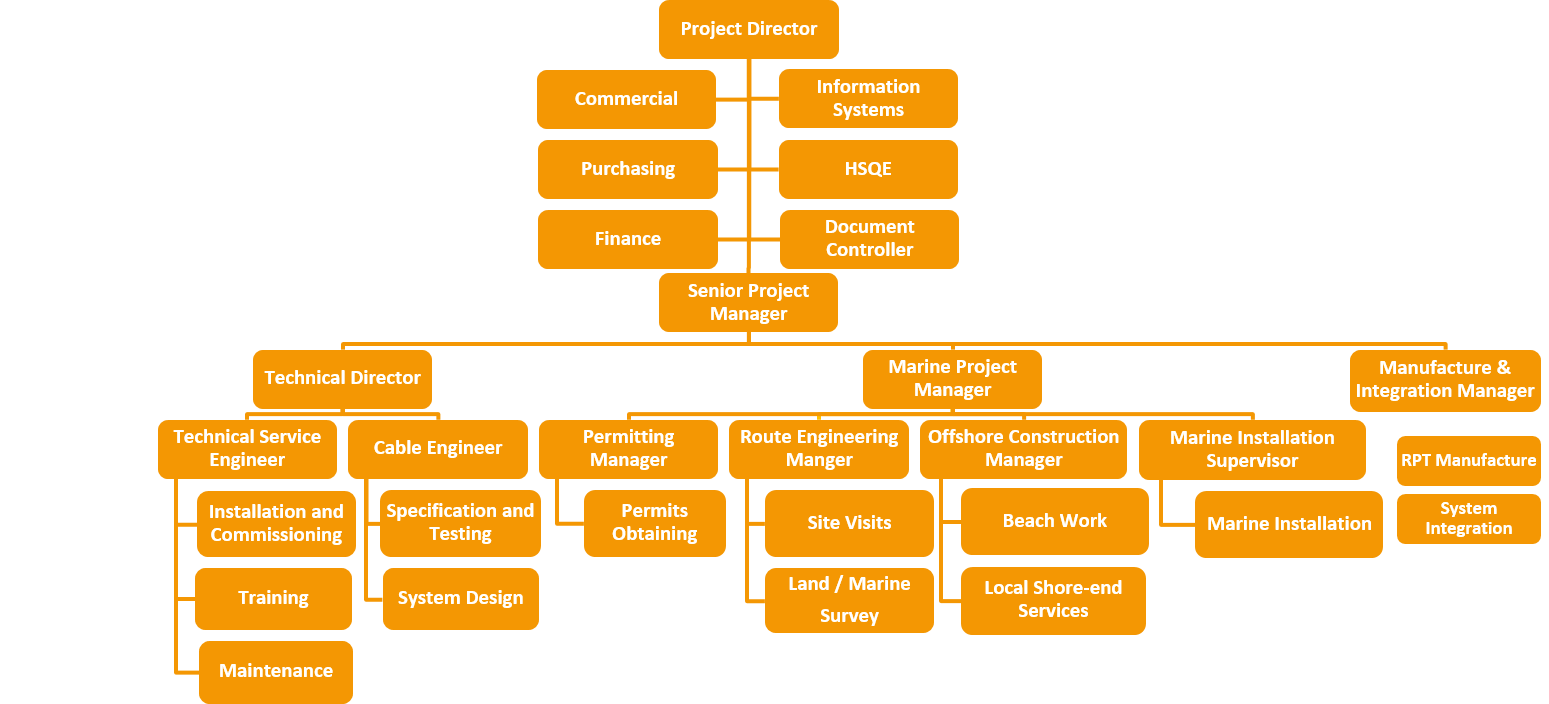 Typical Project Management Team Architecture

The project team is composed of a Project Director, a Project Manager, a Project Assistant, and a Marine Installation Supervisor. The objectives and responsibilities of the project management team are to provide project management and marine installation planning, and to offer project management for turnkey project tasks. This includes the following management areas:

Project Integration Management
Project Integration Management is provided through the whole project delivery phase, including the initiation, planning, execution, monitoring & control, and the closure of a specific project. The Project Director makes strategic decisions on critical events, and the Project Manager steers progress in cooperation with team members from different fields of expertise.
Project Scope Management
Conventional submarine cable end-to-end solutions include the following:

Desk top study

Marine survey

Wet plant manufacture and integration

Transportation

Marine installation

SLTE installation

System commissioning
Project Time Management
Project Quality Management

The Project Quality Manager is the member of the team responsible for making project quality plans and monitoring delivery progress. The project manager ensures the quality of delivery service, evaluates the capabilities and service of subcontractors, and provides optimized solutions according to the contractual requirements of customers.
Project Human Resource Management
The Project Manager applies human resource from the company according to requirements. The PM selects the appropriate team member for each position, and travels to location for communication with the customer and subcontractor. The PM also encourages team members, and supervises their work to guarantee human resources for project delivery.
Project Communication Management
Project team is responsible for communication with the customer to know their needs all times. The team fulfills customers' expectations and matches their project scope and plan. Through communication with subcontractors, the team manages their activities to provide products and services that meet customer requirements and correspond to the customer interface. The PM communicates with team members to understand their output and thinking, requirements and wishes, to ensure the accordance with project aim; communications with necessary third party of the installation country to ensure the project smoothly proceeded.
Project Risk Management
At the bidding stage, risks are initially assessed. As the project goes on, new risks will be identified and will be mitigated or eliminated. The results of unavoidable risks will be recorded. The project team adopts effective risk management to achiececost control, progress control, quality improvement as well as customers' satisfactory.
Logistics Management
HMN Tech provides end-to-end logistics services and supply chain solutions globally to successfully deliver projects.
Contract coordination meeting
Contract coordination meeting